Our Crown and Signature Standards
Our love of pearls led us to create the Jersey Pearl Crown and Signature standards, bestowed upon the finest real pearls, hand-picked from each season's harvest.
Understanding pearl quality standards will help you choose the pearls with the right characteristics for you.
We grade our Freshwater pearls to the standards set by the GIA – the world authority on pearls. Here's how our pearls measure up: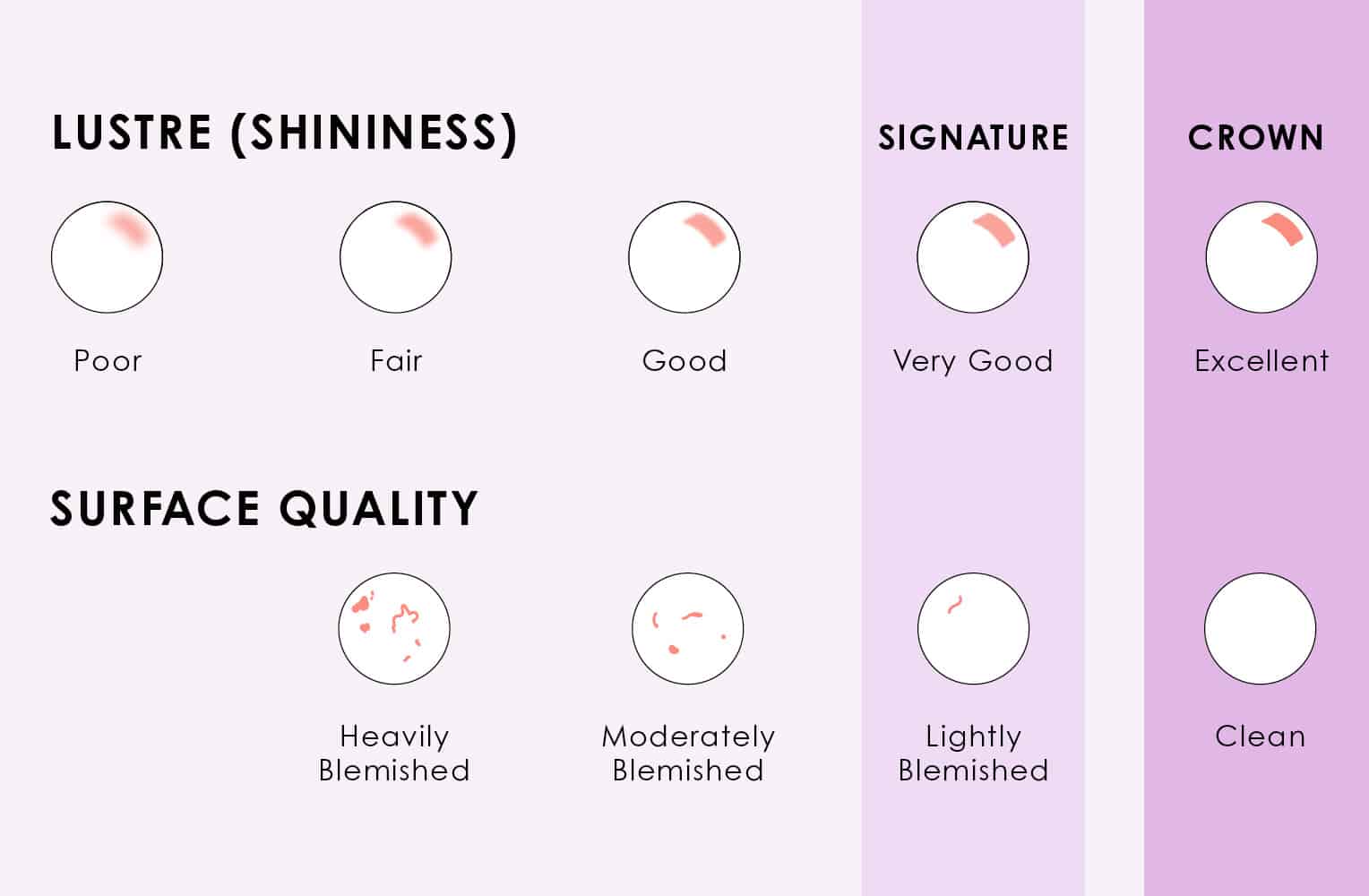 Lustre is the term used to describe the unique, iridescent shininess of a pearl. The better the lustre, the shinier the pearl and the more they appear to light up when their worn.
When pearl grading, 'Excellent Lustre' means that reflections are sharp and bright, while poor lustre means reflections are diffused and dim. We believe that lustre is crucial to the enjoyment of a pearl. Pearls with exceptional lustre also display orient – an iridescent shimmer just below the surface.
When grading pearls, the predominant system used by the industry was created by the Gemological Institute of America, you can read more here, and here's a helpful summary of how the GIA grades lustre.
Excellent – Reflections appear bright and sharp
Very Good – Reflections appear bright and near sharp
Good – Reflections are bright but not sharp, and slightly hazy around the edges
Fair – Reflections are weak and blurred
Poor – Reflections are dim and diffused
Growing pearls with excellent lustre requires the right environmental conditions and good timing. Pearl growing molluscs are sensitive creatures and their health impacts the quality of the pearls they grow. For example, any pollution in the water will result in unhealthy molluscs that grow pearls with poor lustre. Also, molluscs tend to grow dense, shiny pearls with excellent lustre when the water is a bit cooler, i.e. over winter, and so pearls with the best lustre tend to be harvested in early Spring.
Our Crown standard pearls have excellent lustre, and Signature standard pearls have very good lustre.
As an organic product of nature, every pearl will be blemished to one degree or another. These blemishes range from deep, discoloured cracks to tiny pits, invisible to the naked eye. 'Surface Quality' is the term used to judge the extent of these marks.
Here's how the GIA grades a pearl's Surface Quality:
Clean – No imperfections that are visible to the naked eye.
Lightly Blemished – Small, light that are visible under close inspection.
Moderately Blemished – Medium pits, bumps or cracks that may be slightly discoloured.
Heavily Blemished – Large, discoloured cracks, lumps or spots that significantly affect the appearance of the pearl.
Like lustre, surface quality is affected by the health of the pearl growing mollusc. Healthy molluscs are more likely to grow clean pearls, and their health is strongly affected by their environment, i.e. the cleanliness and temperature of the water.
Our Crown standard pearls look blemish-free, and Signature standard pearls look lightly blemished.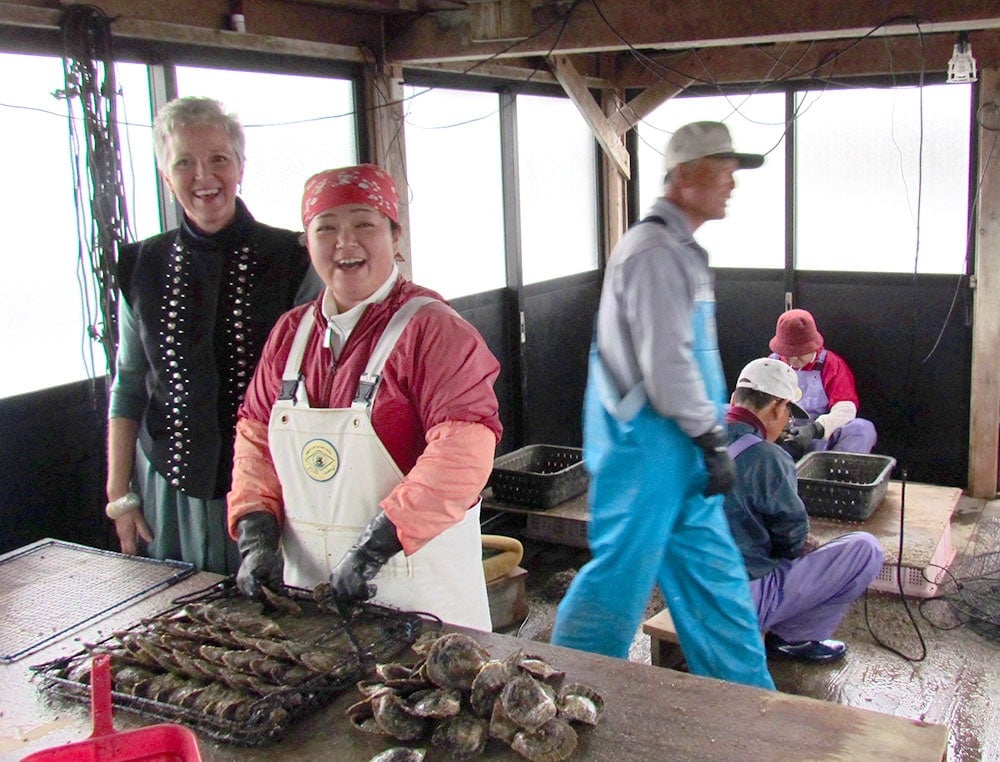 Jersey Pearl founder Angie Taylor visiting an Akoya pearl farm
Sourcing the Finest Pearls from Pearl Farmers Around the World
Over the years we've travelled the world to meet the farmers who grow our pearls, visiting major producers in Japan and China as well as small farms in countries such as Australia, Thailand and French Polynesia.
These visits have enabled us to develop close relationships with the people who grow our pearls, making it possible to acquire our pearls from source to find the finest quality pearls at the very best prices.
The Jersey Pearl jewellery standards are set on the principle that our pearls deserve well considered settings to create pearl jewellery that is beautiful, functional and comfortable.
Our chains, clasps and earring backs are exclusively designed from over 30 years' experience and we pride ourselves on engineering jewellery settings that match our pearl expertise.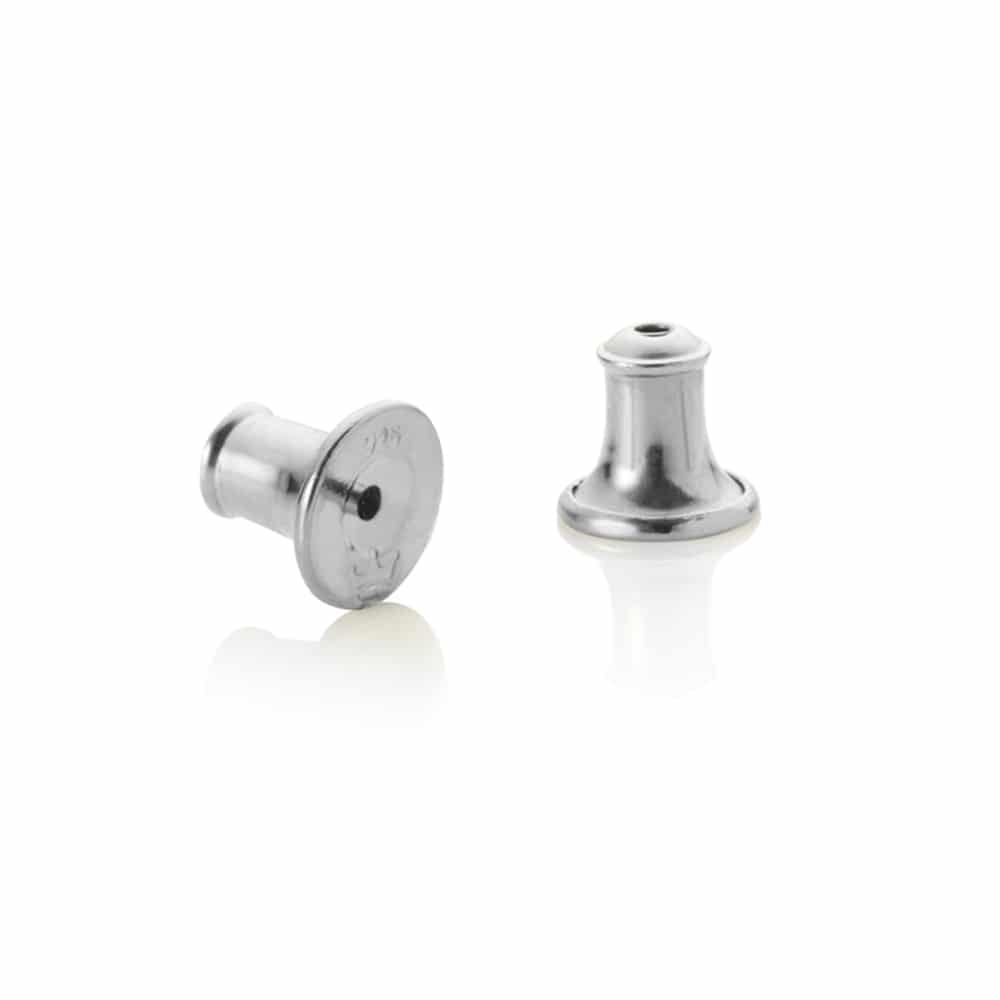 Jersey Pearl silicon trumpet earring backs
Earring backs – We use silicon trumpet backs, as shown above, on Crown standard studs and collections. We extensively tested each type of earring backs and found them to be the most secure and easy to use. The silicon interior is less likely to degrade than rubber alternatives making it a safer option. Signature earrings use silicone dome backs that are equally secure but a little less silver for affordability.
Jersey Pearl Chain – The Jersey Pearl chain is the result of years of trialling and testing to attain a versatile, elegant, and secure chain, for all our necklaces. Our chain is a belcher chain which rolls but does not twist, 16″ or 20″ long with a 2″ extension chain, with Carabiner.
Rhodium finish – Silver tarnish is a normal process associated with the metal. To keep tarnishing at bay for longer, we plate silver with rhodium, a rare metal, famous for being bright and hard. Additionally, the rhodium plating protects the pearls and silk stringing from going black from the silver tarnish.
Diamonds – Made of carbon millions of years ago, they're the world's most precious gemstone. All our diamonds are sourced through the Kimberley process, protecting against conflict diamonds.
Clasps – Crown magnetic clasps are unique to Jersey Pearl Crown pearl strings. They are the easiest clasps to use as well as very secure. Great for people who find clasps tricky. They blend seamlessly into the pearl string design and are beautiful in their own right.